Digital Maturity Assessment
In order to set up and drive a controlled digital transformation of your business, its organization and its information systems, it is paramount to know precisely your company's digital maturity level.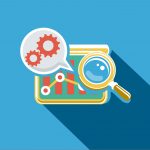 Determine your organisation's digital maturity level
Creation of a tailored digital diagnostic framework and review of your competitors' digital maturity level to gain an overall perspective of the industry and where your organization stands
Highlight your organization's digital perspectives and the opportunities for progression towards advanced e-business solutions. Co-creation of the future digital strategy outline for your organization
Determine your digital potential
Determine your organization's digital maturity through the use of a questionnaire, synthetizing an overview of digital innovation in your teams.
Organize and rationalize available data and visualize it in tailored dashboards for in-depth analysis.
Benchmark your peers to compare observed results with trends among key players in the industry.
Based on your digital maturity report and your strategic initiatives, we will propose customized projects to assist with and optimize digital transformation.
Why digital transformation?
" According to the global study on the 4.0 industry conducted among more than 2000 industrial groups in 26 countries, industrials groups will invest $907 Billion each year in the digital transformation by 2020. They estimate the payback period to be less than 2 years, as these investments will generate an increase in revenues of 2.9 % on average, and will reduce costs by 3.6% each year ".
How to tackle digital transformation?
To flesh out a vision, it is essential to know what the starting point and the organization's level of digital maturity are.
The digital maturity assessment measures the extent to which companies are currently supported by effective use of digital technology, in both their business and organizational dimensions.
major axes of digital maturity assessment

Technological
Vos processus ou vos technologies pour livrer de meilleurs services.

Opérational
Your services, features, delivery pipeline and news contents
Organsational
Your ability to manage digital projects and the expansion of digital culture within the company.
The evolution of digital maturity is based on a carefully balanced combination of these 3 axes, with the final user at its centre.
The incremental implementation with iterative processes, such as "test-and-learn", is in most cases the most relevant solution to make teams key players of the digital transformation.